Since the inception of blockchain and cryptocurrency, the world of finance has seen some distinct changes. One of the major innovations in this regard is the introduction of Initial Coin Offerings (ICO) whose primary objective was fundraising blockchain projects. To bring ideas to fruition, blockchain projects need diverse funding mechanisms, one of which is the Initial Coin Offering.
What is an ICO?
First of all and according to Bitcoin magazine, An Initial Coin Offering, commonly referred to as an ICO, is a fundraising mechanism in which new projects sell their underlying crypto tokens in exchange for bitcoin, ether or other cryptocurrencies. Participating in an ICO is open to the general public both to individual and institutional investors – venture capitalist alike, even though its legality and regulations can differ by jurisdictions.
The concept of an ICO is somewhat similar to an Initial Public Offering (IPO), however, investing in an ICO won't result in you having an ownership stake of the company you're giving money to.
This will allow you to obtain a utility token, allowing you to use the service of the future blockchain project, and possibly make an added value.
Even though ICOs are a relatively new phenomenon it quickly became a household topic of discussion within the blockchain community.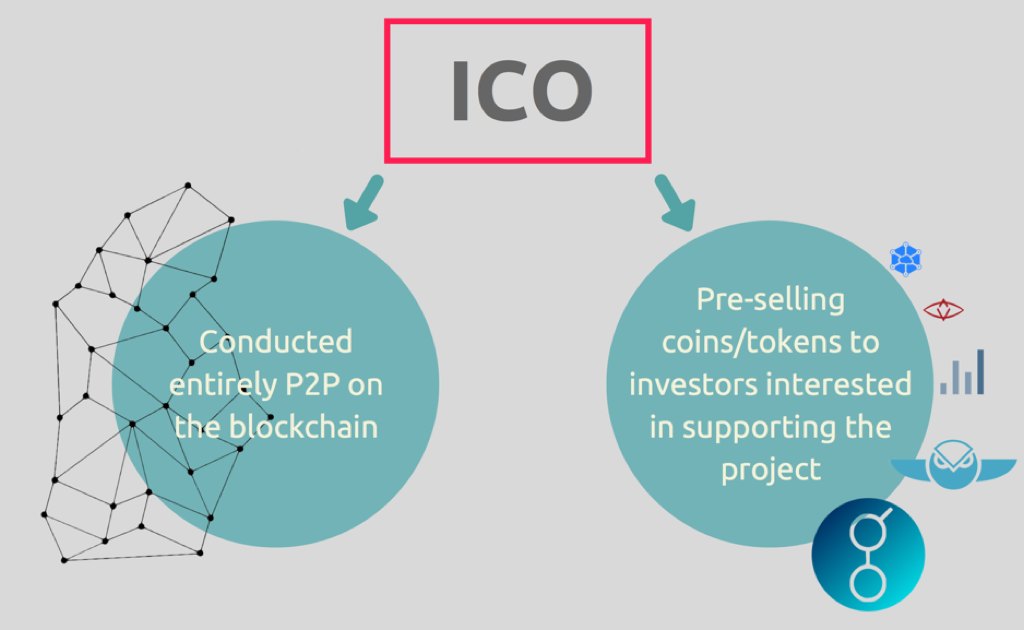 The first ICO is not Ethereum
J.R. Willett, founder of Mastercoin ( now called Omni ) is credited as being the inventor of the ICO, which he described in "The Second Bitcoin Whitepaper," published on January 6, 2012 Mastercoin ICO received half million dollars worth of bitcoin at the time.
ICO started gaining popularity when Ethereum first surfaced in July 22, 2014. With the introduction of Ethereum's ERC-20 token standard, ICOs have maintained a rapid upward adoption rate, reaching its peak in 2017.
To what could be termed as the 2017 ICO-rush, this model has seen some varying level of success, the amount raised during this period was astonishing. ICOdata reported that about $6.2 billion was raised in ICO funding in 2017 alone. Out of thousands of ICOs, EOS ICO for blockchain startup "Block.one" is considered as the biggest ICO of all time.
The biggest ICO ever
EOS raised a whopping $4.1 billion to fund the development of its next-level scalable smart contracts platform. The huge success of the ICO could be attributed to the fact that many people considered EOS to be the "Ethereum of China" which therefore attracted a substantial amount of its investments from individuals based in the People's Republic.
Actually, scalability is a very important factor driving mass adoption in any blockchain network. At the time, Ethereum network suffered from severe congestion due to its inability to scale, Hence, EOS was well-positioned to become a major blockchain and smart contract platform in the future. EOS was developing a scalable smart contracts platform that had the potential to become a "better" Ethereum.
The biggest ICO ROI
In its early days, participating in an ICO was similar to discovering a goldmine due to its astronomical return on investment. NXT, an open source blockchain platform launched in November 2013, and the first to rely entirely on a proof-of-stake consensus protocol, is today taking the lead among the top 10 project with the biggest ROI for its ICO investors. the NXT token's value during its ICO was $0.0000168, and it saw a record high of $1.79 after exchange listing.
Even though the ICO model was considered a big success in its glorious days, many have argued that the ICO boom was unhealthy and largely contributed towards the 2018 crypto winter. According to popular belief, ICO scam related activities impede the trust on blockchain technology and the entire crypto market. According to SATIS group, 80% of ICO's are scams, and only 8% managed to trade on an exchange.
How regulations has fared
Blockchain has unarguably gained popularity around the world, however, regulations that govern this industry is yet to get a clear-cut direction especially with respect to ICOs. While legislations continue to haunt the industry, many national authorities have begun to issue guidelines for ICO investors.
According to statistics, China has had the strictest stance on ICOs, banning them entirely in 2017 and arguing that ICOs hurt the market because of potential deception and fraud. The model hasn't found greener fields yet in the United States due to the activities and stringent rules of the SEC. Most jurisdictions like the United Kingdom, Singapore and Switzerland has issued varying regulatory practices governing the conduct of ICO within the concerned geographical locations.
A report by Hackernoon shows that Singapore, Switzerland, Malta, France, Thailand, Gibraltar, Estonia and Russia has been identified as the top destinations for projects looking to raise funds through an Initial Coin Offering.
The Future of Blockchain
Innovation within the blockchain industry is also moving at lightspeed, the concept of tokenization and web 3.0 is set to revolutionize the blockchain sector and change its existing business terrain. Tokenization is a process where some form of assets is converted into a token that can be moved, stored, or recorded on a blockchain. This Tokenized digital token can be used to prove ownership of real assets for example.
The Blockchain 3.0 era will unveil a new wave of innovation that will form a vital component of the Web 3.0 technology. This innovation is poised to achieve scalability, decentralized governance, payment models and distributed data storage/integrity, the Web 3.0 will usher in an improved protocol than the Internet today.
The ICO remains a main fundraising method for blockchain and cryptocurrency projects, however new forms of digital fundraising are emerging such as STOs and IEOs, which will be the subject of articles in a near future on Markchain blog.